Venue & Hospitality
Radisson Hotel Nashua
11 Tara Blvd, Nashua , NH 03062, USA
Chelsea McGovern
[email protected]
Conference Dates: October 24-25, 2018
Hotel Services & Amenities
Audio/Visual Equipment Rental.
Business Center.
Business Phone Service.
Complimentary Printing Service.
Express Mail.
Fax.
Meeting Rooms.
Office Rental.
Photo Copying Service.
Secretarial Service.
Telex.
Typewriter.
Video Conference.
Video Messaging.
Video Phone.
ATM.
Baggage Storage.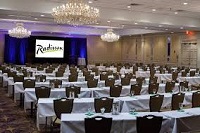 About City
Boston and Massachusetts houses some of the largest biotech companies in world. Sanofi, ​Pfizer, Biogen-Idec, Novartis all major pharmaceutical companies with large research centers just outside Boston, employ over 10,000 people alone. These four companies make up the bulk of the difference in the employment numbers between Massachusetts and the San Francisco biotech clusters. Boston and San Francisco host the largest concentration of biotech activity in the world.
Almost half of all US biotech investment is made in these areas, about 1/3 of the biotechnology employees work for companies in these areas, and about a quarter of US biotech companies are located in one of these clusters. Boston is going through an unprecedented phase of biotech growth, placing it alongside San Francisco and San Diego on the list of the leading U.S. hubs for the industry. Massachusetts, and the Boston and Cambridge area in particular, boasts a proud history of biotech and pharma innovation. The region is home to over 550 companies operating in the industry, more than half of which specialize in drug development.
The Massachusetts Life Sciences Center (MLSC), a quasi-public state agency, has announced that it would provide up to USD2 million to early-stage life sciences firms. A panel of experts will select companies to receive up to USD200,000 each.
Boston Tourism:
With a rich history, diverse neighborhoods, and legacy of arts, culture, and education, Boston has something for everyone. The City has a wealth of museums, with everything from The Museum of Fine Arts to the Boston Fire Museum. Boston's quirky; it's the One Man Band guy playing oldies but goodies on Newbury Street and grown men quacking on duck boats. Boston's historic: The Kennedy's! The infamous Boston Tea Party! The Freedom Trail! Boston is sports paradise: if you want to eat, sleep, and breathe sports (warning: it smells like Fenway Franks), this is the place to do it. And of course, Boston's wicked smart; there are over 50 colleges & universities in the Greater Boston area, including Harvard and MIT. It has the art, food, and nightlife of a big city, with the friendliness and heart of a small town.
Boston is one of a kind – just ask that One Man Band guy.
Conferences By Continents
USA & Americas
Asia-Pacific & Middle East
Europe & UK
Medical & Clinical Conferences
Mail us at
Drop us an email for Program enquiry.

Sponsors / Exhibiting / Advertising.

General Queries.
Be a member and support us
Authorization Policy
By registering for the conference you grant permission to Conference Series LLC Ltd to photograph, film or record and use your name, likeness, image, voice and comments and to publish, reproduce, exhibit, distribute, broadcast, edit and/or digitize the resulting images and materials in publications, advertising materials, or in any other form worldwide without compensation. Taking of photographs and/or videotaping during any session is prohibited. Contact us for any queries.